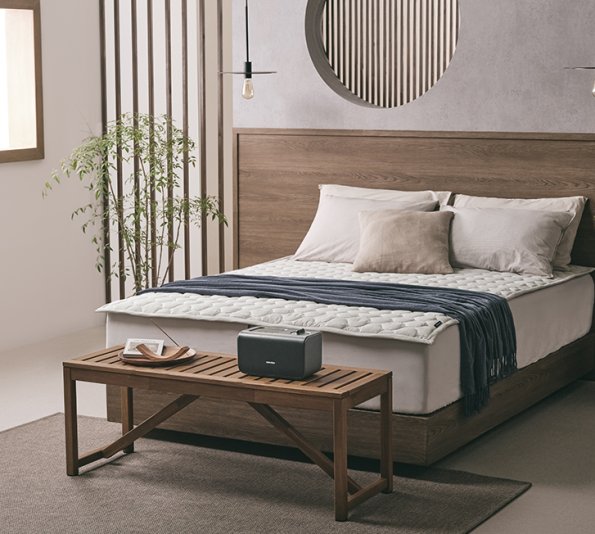 Natural and Soothing Warmth
Nature knows how to provide warmth and comfort through our Navien Mate's water heated bed warmer. The heating is simple, safe and natural which helps give you a peace of mind when using it at home. Artificial heat from electric bed warmers can expose your mind and body to electric radiation in the form of EMF waves. This can cause difficulty in getting sleep, stress, disrupt your body's normal processes and can be physically harmful. Go for the safe choice with Navien Mate.
Heating Unit efficiently warms up the water to the desired temperature in 1ºF increments and helps you to find perfect sleeping temperature. Its optional feature can control the temperature of the left and right sides of your bed, independently without the second unit.
Heating unit's quiet motor circulate hot water through the water channel or tube inside of mattress topper, and radiant heat from hot water warms up entire bed evenly.
The water circulating inside of mattress topper goes back to heating unit, and heating unit check the temperature of returning water to calibrate the temperature to the precise degree you prefer.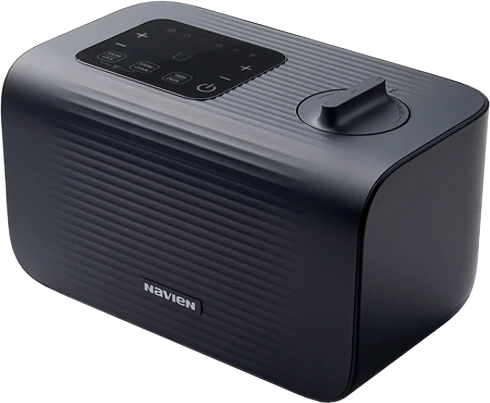 This bed warmer is ultra-slim and can fold up and be carried with its heating unit in a duffel bag. You can use it anywhere in your home or take it with you. Wherever and whenever you desire natural warmth, your Navien Mate bed warmer can be there.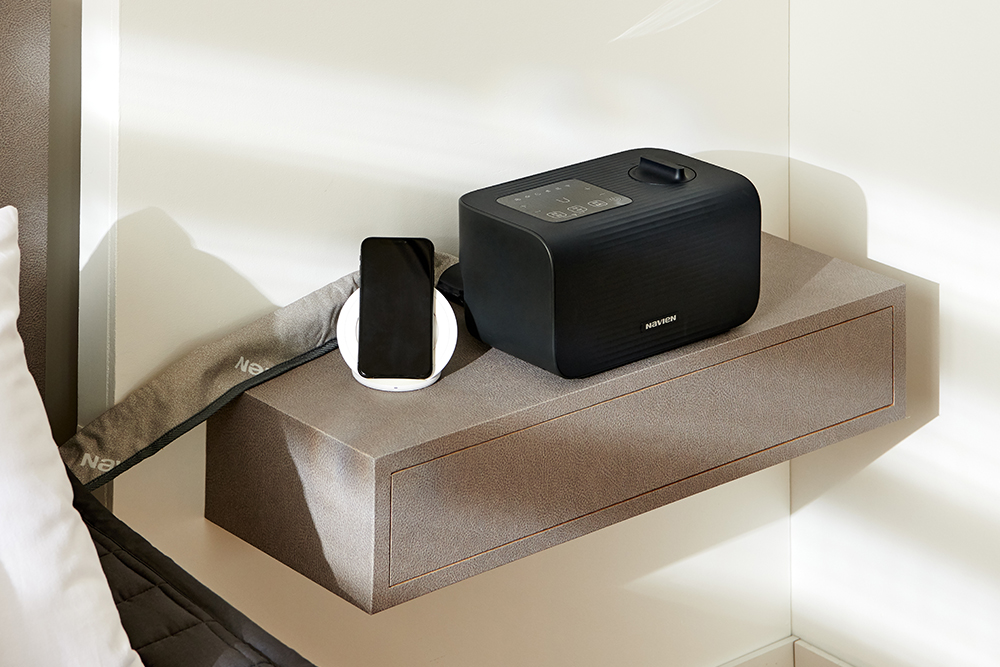 Heat is a natural pain reliever, which is why many pain management tools use some form of heat to help people manage it better. Heat therapy is also known to relax muscles, ease tension, and promote blood flow, making it a healthy solution to add to your sleep routine.

With the low-level heat provided by your Navien Mate mattress heater product, you can ease the tension in your entire body and promote a good night's rest. You can even relieve sore muscles as you sleep. Your body heals itself as you sleep, so the better quality sleep you get, the healthier you can be.
Let's take a second to consider how you heat your house. It's impossible for you to be in two rooms at once, so why are you paying to heat your house at night when you're only in one room? You can save money on your electricity bill when you lower the heat in your house at night and sleep with a non-electric bed warming pad product like the Navien Mate.

We provide you with a smart solution to saving money during the winter and promoting a comfortable night's sleep even when the thermostat is turned down. You don't need to spend hundreds of dollars heating the entire house when you can have the perfect temperature where it matters the most – in your bed.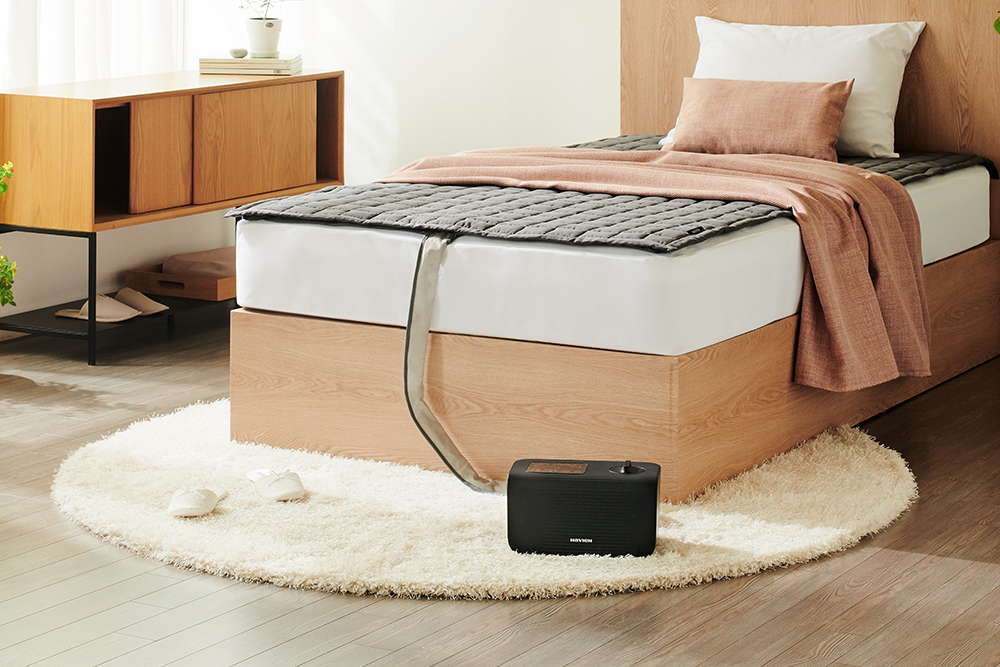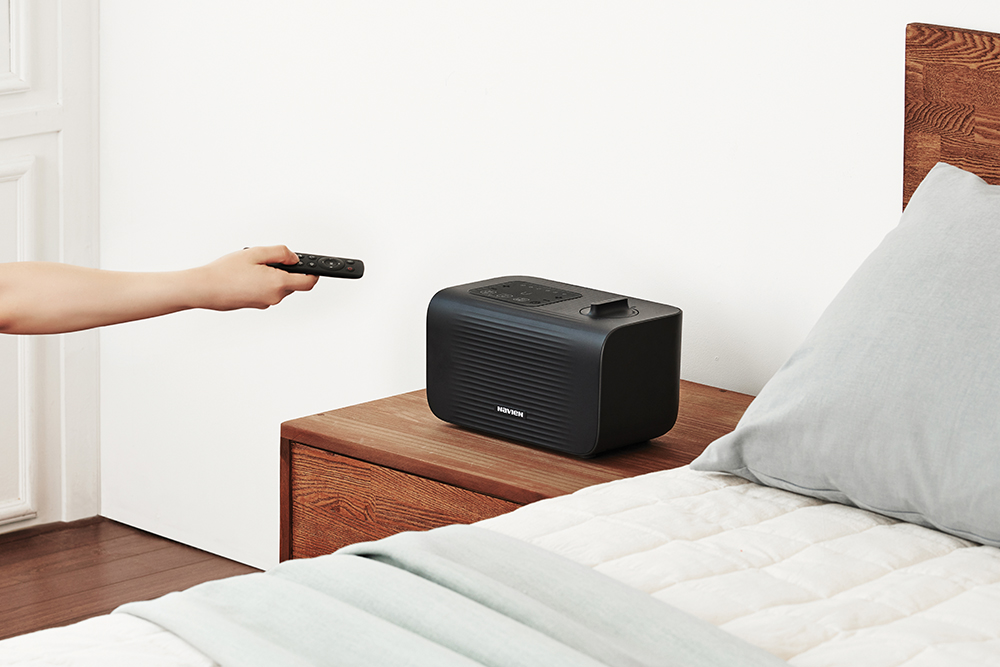 Even if you can afford to keep the heat in your house at the perfect heat setting, odds are a draft will still make your sheets cold to the touch. When you've spent your entire day out in the harsh winter

With the Navien Mate heated mattress system, you can warm up your bed in advance so that when it's time to get under the sheets, your bed is already warm and waiting for you. All you have to do is select the temperature you want and wait a few minutes for your heated mattress pad product to heat up. Add it to part of your nightly routine so that you can always have a warm bed to sleep in!
They say you should invest in two things, your shoes and your bed, because if you're not in one, you're in the other. Without comfortable beds, we wouldn't be able to get a full night's rest that allows us to function at top performance the next day. Because the main point of having a bed is to promote quality sleep, it makes sense that you would want to do all that you can to make your bed comfortable.

Navien Mate's 100% cotton mattress pad is not only soft, it also offers you the benefits of heated water circulation to help you sleep soundly any time of year. As the season gets colder, you can adjust the water temperature by increments of 1º F until you feel warm enough to snuggle up and close your eyes.

This winter, don't spend your nights shivering when you could be snug as a bug in a rug. The Navien Mate heated mattress pad products are here to help you stay warm and comfortable as a bear in hibernation as you drift off to sleep.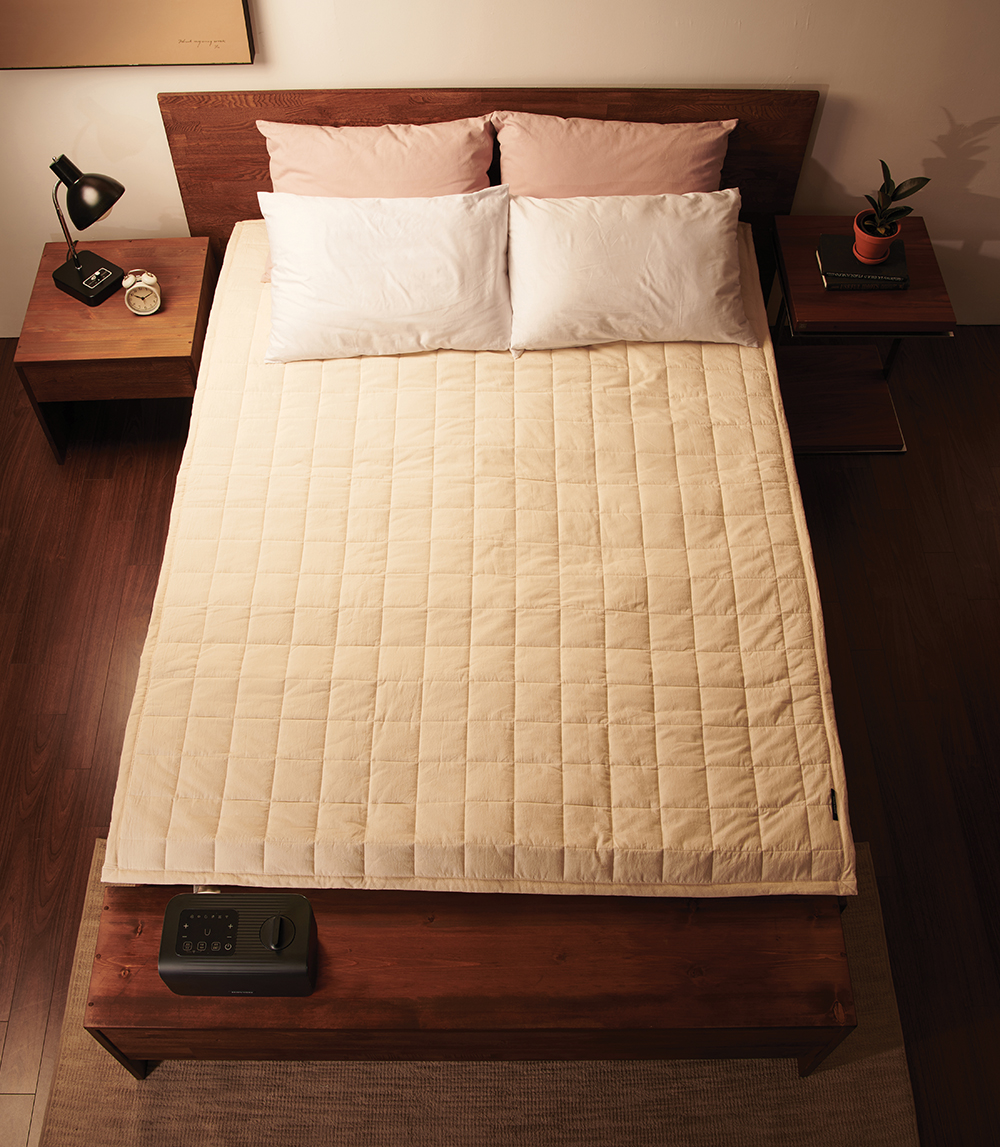 Navien Mate is a revolutionary radiant bed warming system.
It is a radiant, hydronic bed warmer that provides warmth while protecting you and your family from harmful EMF waves. Although the bed warmer heating unit plugs into an electrical outlet, the bed warming mattress topper itself does not radiate any EMF waves.
Sleep Better with Navien Mate
Finding your perfect sleep temperature is key to helping you fall asleep quicker and stay asleep. We all know how uncomfortable it is to get into a bed that's been dormant all day only to find out that the sheets are just as cold as the air surrounding it. Most beds are placed near a wall or a window, which means they are prone to drafts that can make sleeping difficult. Warming mattress pads allow you to find your ideal temperature so that you can snuggle up and stay comfortable all night long. If you share your bed, make sure to try out the Navien Mate's dual temperature option. We know that everyone has their own ideal sleeping temperature, and now you can share your bed with your spouse, pets, and children without being uncomfortable!
Reduce Heating Bills with Our Non Electric Heated Bed Warmers
Heating your entire house can cost hundreds to thousands of dollars, depending on the age of your home and insulation. Why should it be necessary to spend that amount of money heating rooms that aren't in use for at least eight hours a day? When you and the family are tucked in at night, no one is in the living room, dining room, kitchen, etc. It's recommended to turn your heat down at night to save money each month during the winter. However, when you do this, your bedroom might get cold. After all, bedrooms are often the coldest rooms in a house. Instead of feeling freezing every night, you can still save money with a water heated mattress pad that preheats the bed for you before you even get in!
Setting up your new heated mattress pad is easy. All you have to do is fill the unit with water and select your preferred sleeping temperature. If you're not sure which temperature will help you sleep better, try going up or down in increments of 1o F. Once you find the right temperature, all you have to do is set it for next time. Unlike electric heated mattress pad and blanket, the warm mattress cover will circulate warm water throughout the entire pad instead of adding heat to your body. When you regulate this, you'll have a more consistent sleeping temperature and never get too high at night. 
Achieve your Best Sleep with Navien Mate Bed Warmer